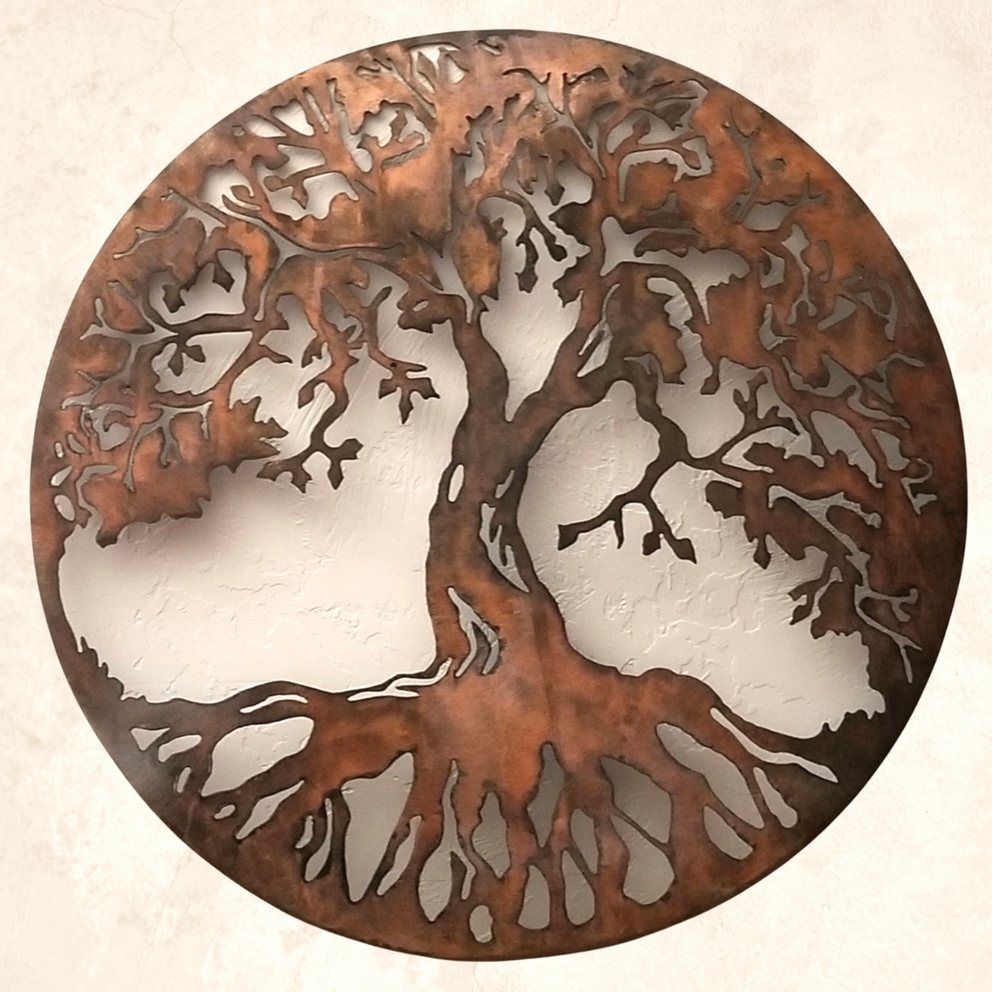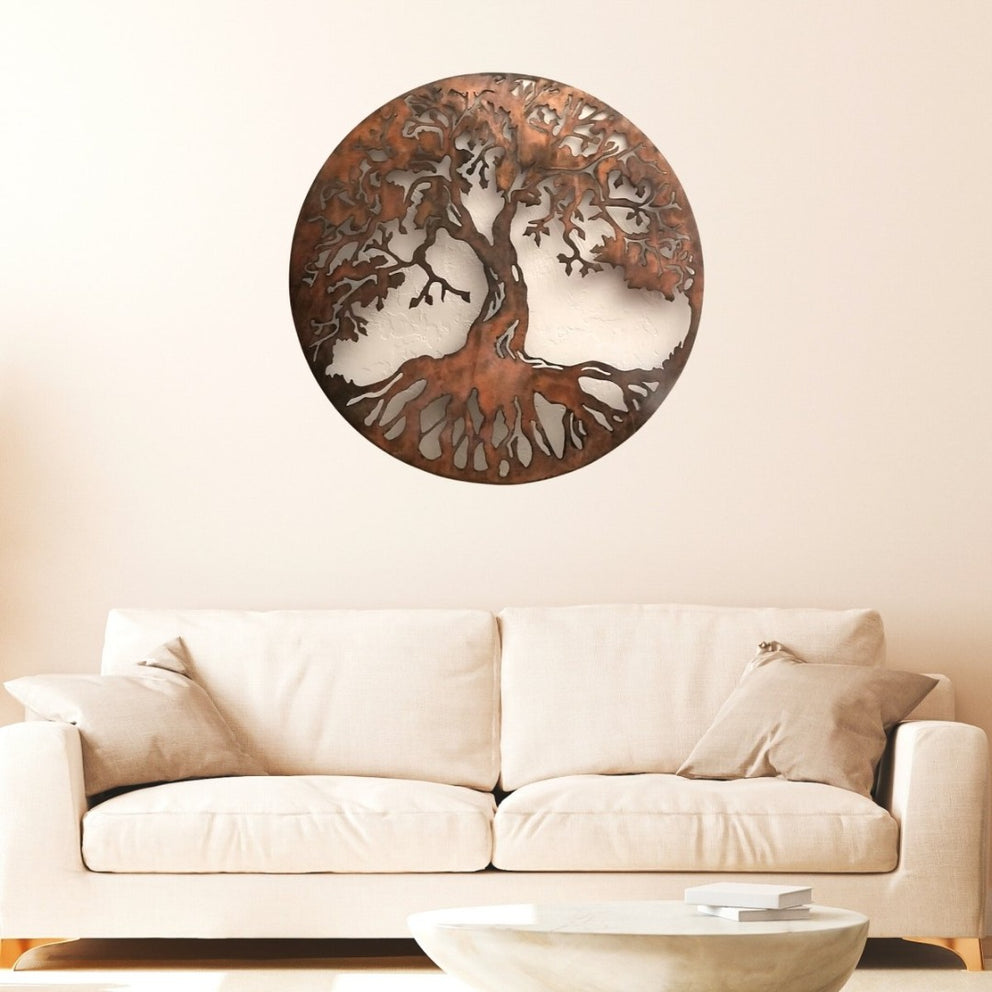 Simply Royal Design
Tree of Life Metal Wall Art
from

$116.99
The Tree of Life is a symbol of positive energy, health and a bright future. The immortality that comes from the circle of life is encapsulated in this beautiful metal wall art. Have you ever drooled over the depth and multi-colored tree of life designs? Well, we have and we love making each one of them come to life! Our unique process and pride of work sets us apart and will have your neighbors also wanting one. The upscale look compliments inside or outside of your home so you will have great pride displaying in any area. Watch our video to see the details of our classy Patina finish! A bit rustic, spiritual and meaningful it is no surprise to us that this Tree of Life metal sign is a customer favorite and one of our most popular designs! Unique, one of a kind Patina and clear coat finish options Available in multiple sizes ranging from 19 inch to all the way up to 36 inch diameter Made from durable 16 gauge mild steel using a professional CNC plasma  cutter Hand prepped and sanded in our Hawaii family based shop Powder coated with top of the line products rated for indoor and outdoor use. No maintenance needed! No need for waxing or using chemicals to protect it Custom sizes available upon request Available in solid color powder coat, clear coat or patina finish with clear coat If choosing the patina finish, understand that it is a chemical process and no two pieces turn out the same, giving it a unique, one of a kind look. Patina finishes take a few days longer to complete. You can also order in any solid painted color.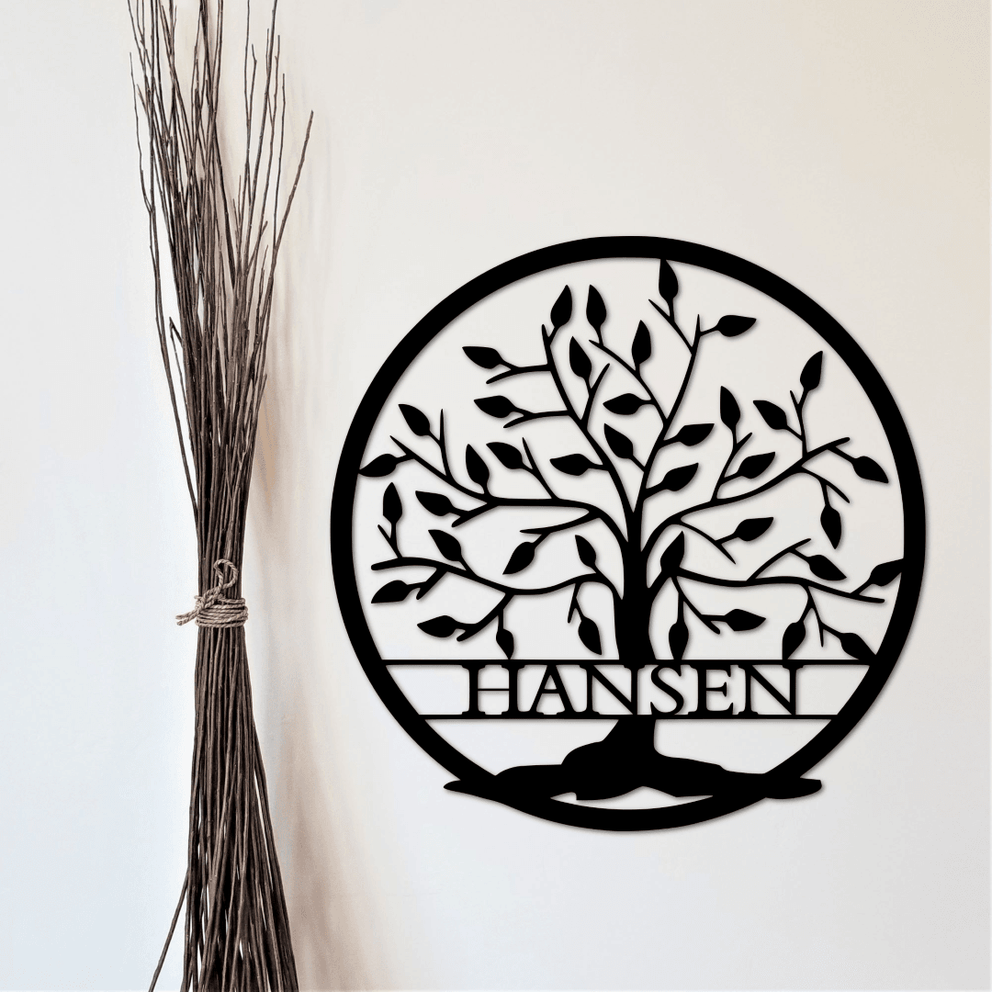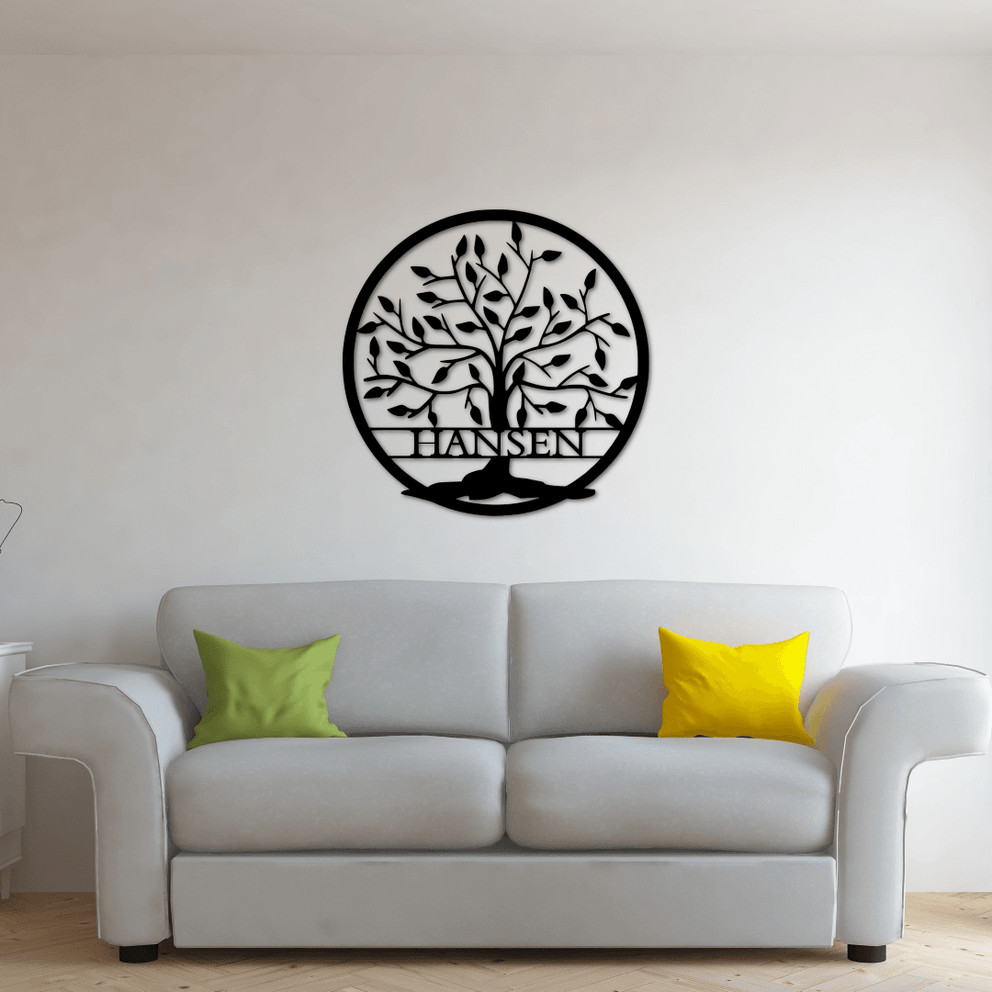 Simply Royal Design
Last Name Tree of Life Metal Sign
from

$112.99
***AT CHECKOUT INCLUDE YOUR NAME IN "ADDITIONAL NOTES"*** Personalized tree of life metal wall art. This last name tree of life is a great addition to a front door, entryway or living room. Fantastic, personal gift for Christmas, Weddings, Anniversaries and Housewarming!• Overall dimensions are approx.: 18" wide by 18" tall.• Available in multiple powder coat colors. Make your selection at checkout.• Made out of 16 gauge steel using a professional cnc plasma cutter.• Hand sanded, prepped and powder coated in our shop in Maui, Hawaii.• We use top quality materials and our powder coat is rated for both indoor and outdoor use. No maintenance required!Each piece may have slight variations.Most of our pieces are hung with small needles or nails using the existing void spaces as anchor points. This way the art hangs flush with the wall and doesn't take away from the design. Our customers have also had a lot of success using double sided command tape. Our metal designs are also magnetic! If desired, small holes can be added upon request at checkout at no extra charge. Hanging hardware is not included.***This is an Exclusive Simply Royal Design*** Cannot reproduce, copy, manufacture or use in any format without prior written authorization.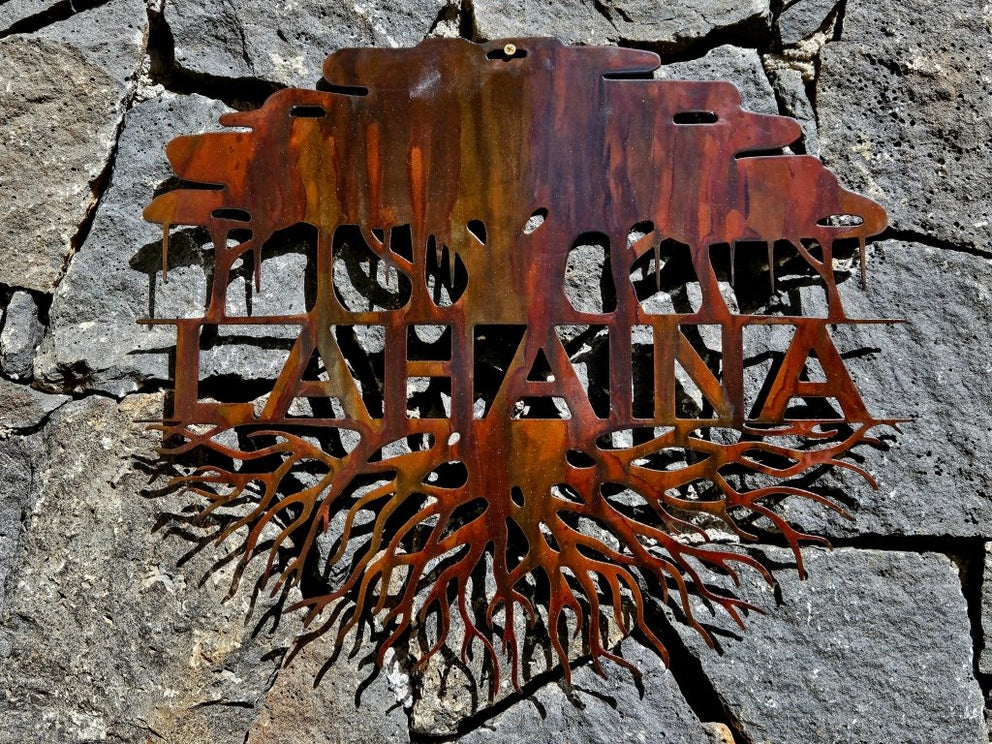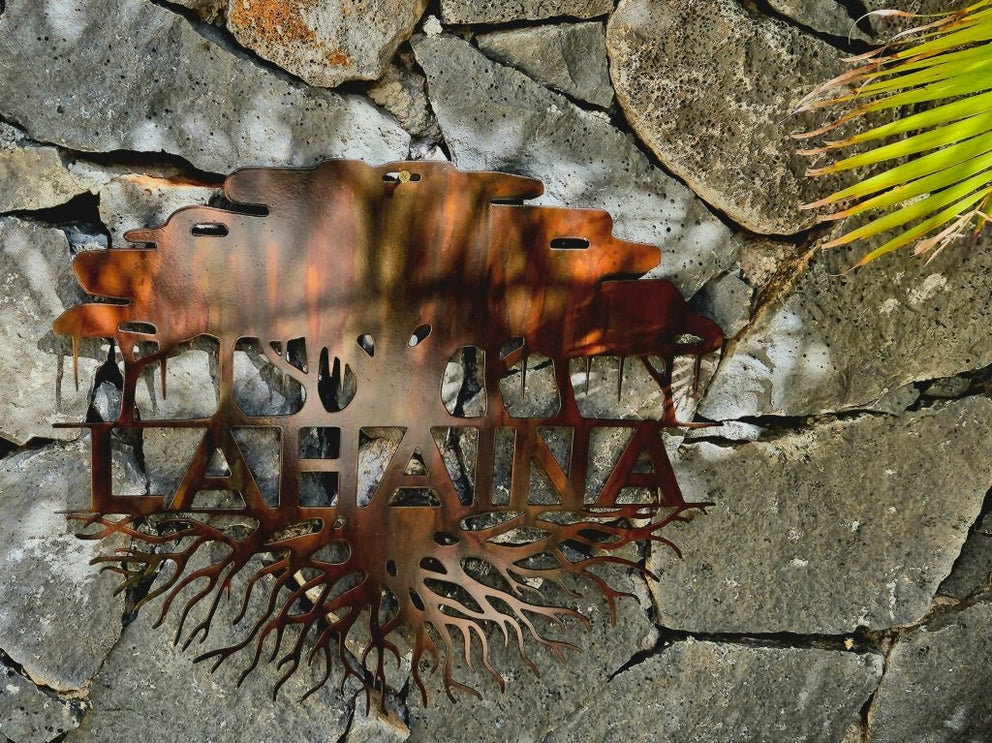 Simply Royal Design
Lahaina banyan tree - Made on Maui - Limited edition
from

$149.99
NEW LIMITED RELEASE! This Lahaina banyan tree is a reminder of the deep roots that will see Lahaina, and Maui through this struggle. Help us show some Love and Aloha, especially in such time of need. This metal beach sign is made out of 16 gauge steel. Hand prepped, and finished with a UV stable powder coat for a timeless, durable sign that will withstand the outdoor elements for years to come. We are offering this design in a few classic colors for the traditionalist.  For those wanting to be a bit bold, we are offering this design in colors we do not offer on any other piece.  $30.00 from every sale will go to Maui Rapid Response or the Maui Humane Society. We are only making 50 of these, and when they're gone, that's it.   Aged multi-colored finish - some say it looks a little like a charred rainbow eucalyptus tree. Bright copper - think: Brand new Lincoln head penny Sand - Like having a white sandy beach in your home. 22" wide by 19" tall. ***WE ARE LOCATED ON MAUI***  As many of you know, our main shop is located in Wailuku, Maui. We are devastated and completely heartbroken with the current situation with the wildfires on our beautiful island. Luckily, our shop was unaffected and we are able to produce and ship out our products. We would still really appreciate your business and support during such a horrific time here on Maui. We are spending a lot of time volunteering and trying to cope with the grief of the loss of so many lives and our historical Lahaina town. We appreciate your patience as it might take us a bit longer to get your order out. If you need your order by a certain date, please reach out to us and let us know so that we can be accommodating. Thanks for supporting our business, island and people!  Price includes free ground shipping.• Available in multiple colors or clear coat.• Holes are added for hanging. Hanging hardware is not included.  If no holes are wanted, please note at checkout in our "notes to seller section". Our signs are also magnetic!• Custom sizes are also available.Each piece may have slight variations. About Simply Royal Design:• Woman-owned small business• Operating since 2016 with thousands of 5 star reviews and happy, satisfied customers• Proudly handcrafted in the USA (Maui, Hawaii)
Thousands of 5 Star Reviews
With over 15,000 sales our customers are loving our products and services.
Hand Made in the USA
The only one stop shop for rust repair, metal fabrication, welding, sandblasting and powder coat on Maui! All of our products are designed, manufactured and shipped from Hawaii.
Secure Payment
We use only accredited processing services to ensure that your information is safe and secure.
Satisfaction Guarantee
Customer Satisfaction is essential to our business. We're confident you will love your product or service. If not, don't hesitate to contact us.